The final conference of the project "Improvement of solid waste management in urban and rural areas of the municipalities of Bajina Basta, Visegrad and Han Pjesak" was held on Thursday, July 15, on the ship "Grizzly" on Lake Perućac.
The final conference was attended by three utility companies from the municipalities of Bajina Basta, Visegrad and Han Pjesak, as well as representatives of the media, local governments, the project team and the tourist organization. This was an opportunity to present the results of the project and the activities achieved.
The location for the final conference is symbolic for this project, because it is a combination of the municipalities of Visegrad and Bajina Basta and also one of the biggest unresolved problems in waste management because there are landfills in the Drina river basin of 17 municipalities and cities that mainly reach Lake Perucac. Through this project, equipment for collection and disposal of dry waste was procured and all necessary acts for these activities were adopted.
"We managed to additionally equip ourselves through this project, and to start with the selection and removal of garbage from rural areas where we have not done this job so far. We have procured 2 garbage trucks, 2 tractors and 20 containers of 5 cubic meters, which will be able to use 100 small containers of 1.1 m2 in all local communities for a longer period of time, "said Ivan Markovic, a representative of JKP" 12 Septembar ".
Saving time and reducing the number of containers taken from remote areas will reduce costs and increase the efficiency of utility companies.
"Today, the municipality of Bajina Basta is a record holder in Serbia in terms of the percentage of selected waste, and we want to improve this percentage as well as set an example and continue with additional improvement of waste management. Also, through the project, we design a composting plant for biodegradable waste and start the process of collecting animal waste. We got one cooler and one wood shredder, which we will dispose of in special locations. "Our company shared its previous experiences with partners from Visegrad and Han Pjeska in the introduction of waste selection and their further movement," Markovic added.
Of special importance will be the beginning of the collection and selection of waste from Lake Perućac, which will be regularly collected and organized by the employees of JKP from Višegrad.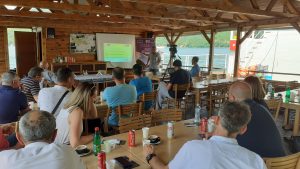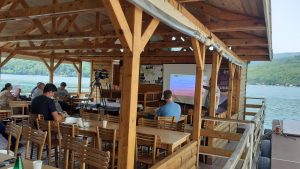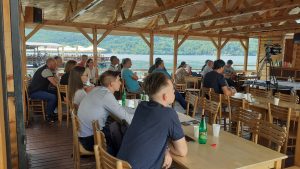 https://srb-bih.org/wp-content/uploads/2021/08/20210713_143706-1-scaled.jpg
1440
2560
Irena Markovic
https://srb-bih.org/wp-content/uploads/2018/12/cb-hih-logo2.png
Irena Markovic
2021-08-02 12:46:32
2021-08-23 14:01:42
Final conference of the project