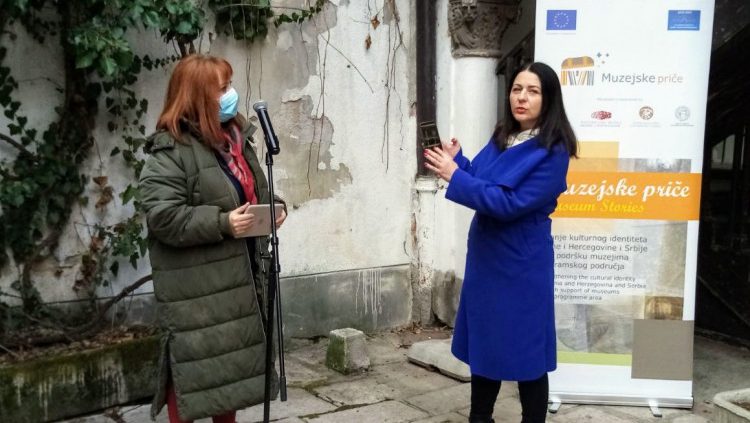 On Thursday, December 24, 2020, the benefits of the "Museum Stories" project were presented in the garden of the Museum of Literature and Theater Arts of BiH.
The Museum of Literature and Theater Arts of BiH received valuable equipment within the project, including a quality scanner and plotter.
"Thanks to the project, we will be able to realize our exhibitions, to prepare and print promotional material, posters and posters. Museum staff should be trained to use the equipment. We will be able to use some of this equipment in one of the most important projects. for the Museum, which is the digitization of material. The Museum of Literature has 67 literary and 30 theater collections, of which a small percentage has been digitized, "said Sehabovic.
She added that the project also included opening of exhibitions.
"Unfortunately, due to the pandemic, it was not as we planned. Thus, the guest exhibition of the academic painter from Loznica Drago Simić 'Faces of the Land of Faces of People' was first opened in a virtual gallery, after that exhibition was opened in our MAK gallery in October. Our exhibition "Embroidered Bridge" visited the Museum of Language and Letters in Tršić in November ", pointed out Šehabović.
The coordinator of the Museum, Mihneta Stupac-Avdić, said that, within the project, an audio guide and a mobile interactive application were created for all 11 museums.
"It is enough for the visitor to scan the QR code on the plate next to each collection in our Permanent Setup with a mobile phone and have a guide available in two languages. The link for applications for all 11 institutions is here. If you are interested in English and download the application directly, you also have an audio guide in two languages, Bosnian and English, a QR code scanner, useful information about the Museum, address, contacts, ticket prices, etc. In one section there are also short information about the 'Museum Stories' project, "explains Stupac-Avdic.
She adds that a joint catalog of all 11 museums in four languages (Bosnian, English, German and Italian) was created within the project.
"The catalog is currently available in electronic form on the link that can be found on our Facebook page or on the Facebook page of 'Museum Stories'. It will soon be available in print, and will be printed in a 1,500 copies," says Stupac-Avdić.
https://srb-bih.org/wp-content/uploads/2020/12/Muzejske-price-1.jpg
465
750
Irena Markovic
https://srb-bih.org/wp-content/uploads/2018/12/cb-hih-logo2.png
Irena Markovic
2020-12-25 13:46:45
2020-12-28 11:54:09
The successes of the "Museum Stories" project were presented at the Museum of Literature and Theater Arts of BiH