In order to ensure presentation of project results obtained during the 15 months of implementation to all stakeholders, the Project team organized a meeting on May 13th in the premises of Secondary Technical School in Užice. The meeting was attended by representatives of Užice`s schools (principals and biology teachers) who were involved in project realization; Užice City Council members in charge of education and public companies; Schools Administration, which supported the project; The Joint Technical Secretariat of the Cross-border Programme Serbia-Bosnia and Herzegovina, project donors, as well as partner organizations that implemented project – PUC Duboko, Teachers` Association Survival and Zlatibor Regional Development Agency.
Nobody can be indifferent to project results and 90 minutes in not enough to express all opinions on this issue. Since the numbers are relentless, here are some of the most noticeable results: 14 schools with 9,700 students and over 1,000 employees, nearly 25 tons of raw materials in less than a school year that were recycled instead of deposited at a sanitary landfill. In this way, savings of 950m2 landfill space was achieved which construction costed approximately 13 €/m2. The structure of collected raw materials was: 58% PET, 25% paper and cartboards, 15% carton and 2% aluminum cans.
When we talk about infrastructural equipping of the schools and public utilities, noteworthy procurements are: 1 special truck for container transport; 14 metal containers (5/7m3) ; 270 plastic waste bins (120/240l) and 1.5 tons of PVC bags for bins emptying.
Last but not least, project has educational character, reflected through: 14 info campaigns for schools in Užice, 14 ecological sections with more than 300 participants, 14 eco quizzes with 200 competitors and 2 eco camps with 56 students from Užice. Friendships spawned among camps participants, new loves, ideas for cooperation and a host of warm and human stories, which represents confirmations that this project has fully met expectations and justified investments.
All together resulted in the fact that 14 schools in Užice introduced primary waste selection system, whose sustainability depends on willingness of the mentioned participants to continue its development. Regarding PUC Duboko, they will continue to collect selected waste from schools and plastic bags are purchased for this purpose. When it comes to schools, principals expressed the belief that there is no reason not to go on with this activity in the coming school years. Biology teachers have stated that they will continue to educate students actively on environmental protection, with emphasis on primary waste selection. City councilors are committed to providing their colleagues with the innitiatives that came from this meeting, concerning the establishment of the City working group that will design an adequate model for improving the current waste selection process in the city. Plaques have been awarded to schools which participated in project, as an encouragement for further improvement and sustainability.
We believe that there will be enough strength, courage and will in the City of Užice to raise this issue. Project has proved two things – first, that this kind of initiatives are financialy justified and not necessarily expensive, and second – this city has enough knowledge and experience to deal with these tasks. It remains to be seen if we will learn something from the Project.
The project team takes this opportunity to thank all those who actively participated in project activities: support staff, students, teachers and principals in schools; staff engaged in collecting, transporting and selecting in PUC Duboko; donors for financial support and Joint Technical Secretariat for operational assistance.
Presentations can be found here and here.
See you in the next project!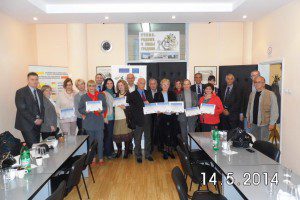 https://srb-bih.org/wp-content/uploads/2018/12/cb-hih-logo2.png
0
0
Jelena Stojanov
https://srb-bih.org/wp-content/uploads/2018/12/cb-hih-logo2.png
Jelena Stojanov
2014-05-14 13:24:30
2017-09-27 17:10:34
Final presentation of project results