Project which is implementing by Agriculture Extension Services Uzice and Federal Institute for Agriculture Sarajevo with partner support of Regional Development Agency Zlatibor and Sarajevo Regional Development Agency won European award 'Sail of Papenburg' established by Association of European Border Regions (AEBR).
Award 'Sail of Papenburg' was established in 2002. in German city Papenburg with aim to honors and motivate those programs and project that achieve outstanding results in cross-border cooperation and contribute to enhancing economic, cultural and social cooperation between regions. This award directly promote connecting and integration of European regions. This year motto was: "Urban and Rural Integrated Areas – Cross-border Challenges and Chances."
Project Agriculture Forecast – Reporting System (AFRS) in the Cross Border Region is one of the seven projects that won this award for contribution in development of agriculture through appliance of innovative using of information tecnologies for reporting farmers about meteorological condition and forecasting possibilities of occurring diseases and pests.
News was published by: Dnevnik, B92, Kurir, Radio Luna, i Agrodan (Video)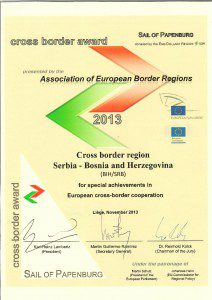 https://srb-bih.org/wp-content/uploads/2018/12/cb-hih-logo2.png
0
0
Jelena Stojanov
https://srb-bih.org/wp-content/uploads/2018/12/cb-hih-logo2.png
Jelena Stojanov
2013-12-20 14:51:28
2017-09-27 09:07:46
'Sail of Papenburg' award to AFRS project