Within the project activities, monitoring visits to all 14 schools in Uzice that are implementing  process of primary waste selection were carried out. Monitoring was conducted from 25th November to 13th December, during which project manager discussed with school management, employees, ecological sections teachers and students, in order to obtain relevant information for improving the process of primary waste selection.
The earlier attitudes of project participants have been confirmed, that there is no reason to not continue the project implementation in future, after its formal completion in April 2014. In support of this fact, there are significant amount of collected raw materials, more than 10 tons of raw materials so far. When we add a variety of educational activities which were carried out in schools in order to educate students and school staff, it is obvious that the project is a response to society needs to define new public policies on waste management. Certainly, the primary waste selection is the first step on that path.
Detailed monitoring report can be seen here here.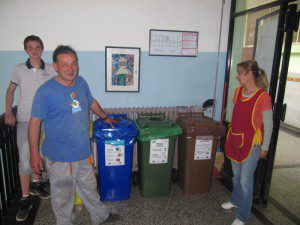 https://srb-bih.org/wp-content/uploads/2018/12/cb-hih-logo2.png
0
0
Jelena Stojanov
https://srb-bih.org/wp-content/uploads/2018/12/cb-hih-logo2.png
Jelena Stojanov
2013-12-21 16:58:12
2017-09-27 19:25:19
The first monitoring of primary waste selection process in Uzice`s schools conducted