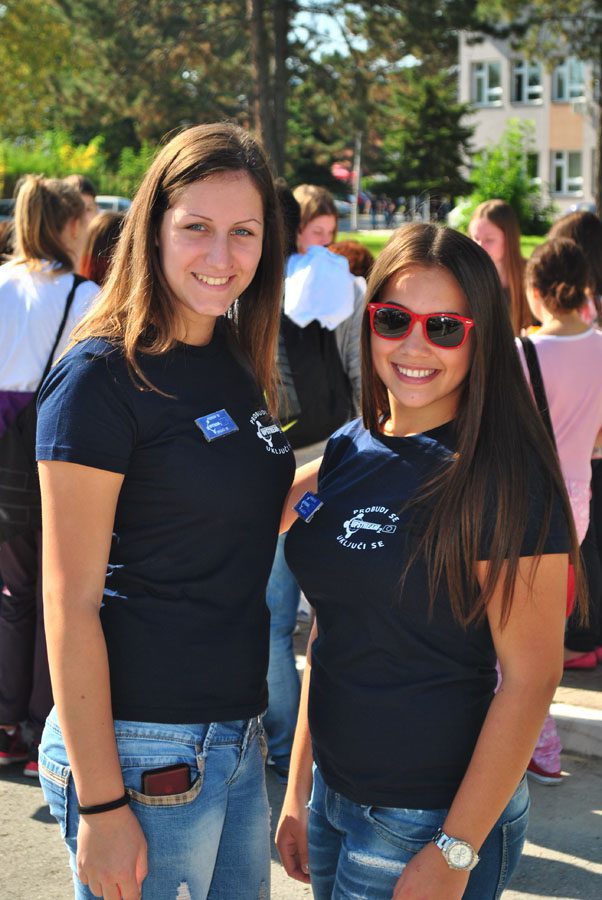 This year the World Mental Health Day, 10 October, is celebrated across the globe under the slogan "Living with Schizophrenia". In Valjevo this date is marked by a series of activities organized by Caritas Valjevo and the Psychiatric service in the yard of Department of Psychiatry of General Hospital, with the message "Wake up and get involved,".
This slogan was designed by students from Valjevo and Tuzla, who participated to the "Summer Camp" and on that occasion proposed their ideas for celebrating the World Mental Health Day. Part of volunteers from the Medical School in Valjevo has shown today that there are those who are willing to fight for changing the image that mental health care has, so that is not marginalised anymore. Their presence and support for today's action sent this message to the representatives of various organizations, institutions and media.
– The current day and the large number of those who support us who work in the care and treatment of mental health show that we have been on the right track, showing that not only physical but also mental health is important. Being mentally healthy means being happy, pleased, having a good quality of life – said prof. Snezana Medenica, head of the Department of Psychiatry.
Given that the celebration of the World Mental Health is a part of the activities implemented within the project "UPdate of Socialization and TREAtment of Mental health – UPSTREAM 2", which is co-financed by the European Union through the IPA cross-border cooperation, Snjezana Badrić, project manager of Caritas Valjevo, drew attention to the goals of this project, especially to the importance of the formation of users'associations in Valjevo, based on the model offered by the Association of Mutual Assistance to mental distress, "Phoenix", from Tuzla.
On the occasion of the World Mental Health Day, promotional materials and brochures were printed with the title "Living with Schizophrenia", and distributed to visitors. With an exhibition of works of users of psychiatric services, as well as a recital which they prepared to commemorate this date, support has been given also by members of the Club of Persons with Disabilities OSI by performing the play "Female and male talks", written by Dusko Radovic and directed by Ljubivoje Buba Markovic. Along with laughter there was the music  performed by Valjevo's musicians Lazar Avramovic, Dejan Djeric and an excellent voice of Marko Tomic.
The nice picture recorded in Valjevo confirms that the message sent on World Mental Health Day from the yard of Department of Psychiatry is becoming true, that we really woke up and got involved! We can only try not to nap and not to forget that mental health should not be important only today, but 365 days a year!
https://srb-bih.org/wp-content/uploads/2014/10/DSC_1424.jpg
900
602
Jelena Stojanov
https://srb-bih.org/wp-content/uploads/2018/12/cb-hih-logo2.png
Jelena Stojanov
2014-10-10 08:25:20
2015-02-04 13:52:42
WAKE UP AND GET INVOLVED!