Mayor of Šabac, Miloš Miloševic and the mayors of Bogatic, Vladimirci and Koceljeva: Nenad Beserovac, Vladica Markovic and Veroljub Matic, have signed the Agreement on association and the establishment of the Regional Employment Council of the City of Šabac and municipalities of Bogatic, Vladimirci and Koceljeva.
The aim of the association of local councils is to achieve a greater degree of development of local and regional employment policies, and the initiative is a consequence of the need to involve local governments in the financing of programs and active employment policy measures.
The agreement was signed on 18 February of 2014 in the Town Hall in Šabac, and the meeting was yet another indication that the pooling of resources of local governments lead to the achievement of even greater subsidies and assistance. The next step is the adoption of the Regional Employment Action Plan.
According to Branko Filipovic, director of the National Employment Service, Šabac branch, merger will provide significant subsidies in the area of ??employment. This is particularly important when implementing projects financed from IPA funds.
Mayor of Šabac, Miloš Miloševic, stated that the unemployment is a chronic problem of all local communities.  Solution to the problem lies in increasing economic activity and new jobs, and associated local governments, with a joint approach, can improve the chances of employment through improving the professional workforce.
The city of Šabac has adopted Local Employment Action Plan in order to submit application to the competent ministry for co-financing programs. This means that this year, from the city budget, employment programs for interns, women older than 50 and men older than 55 years, public works and self-employment will be subsidized. For this purposes, from the city budget 37.5 million dinars will be allocated.
The mayors, the signatories of the Agreement, point out the importance of the establishment of the Regional Employment Council, because in that way the smaller communities gets the opportunity to participate in important projects, thus creating a favorable economic climate.
City of Šabac and the National Employment Service are partners and collaborators of Caritas Šabac on the project "Strengthening the professional adult education in rural areas", which is implemented under the Second Call of cross-border cooperation between Serbia and Bosnia and Herzegovina, funded by the EU pre-accession IPA funds through which alternative modes of employment and self- employment of people from socially vulnerable groups is promoted. With project activities, among other things, the further development of collective interests and the establishment of new instruments of public institutions is enabled, which have become better informed about the new mechanisms and ways of prevention of social exclusion.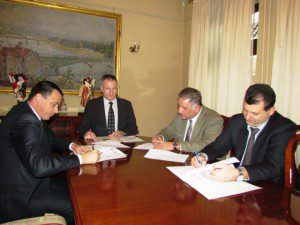 https://srb-bih.org/wp-content/uploads/2018/12/cb-hih-logo2.png
0
0
Jelena Stojanov
https://srb-bih.org/wp-content/uploads/2018/12/cb-hih-logo2.png
Jelena Stojanov
2014-02-18 11:55:59
2017-09-28 16:39:27
Establishment of Regional Employment Council