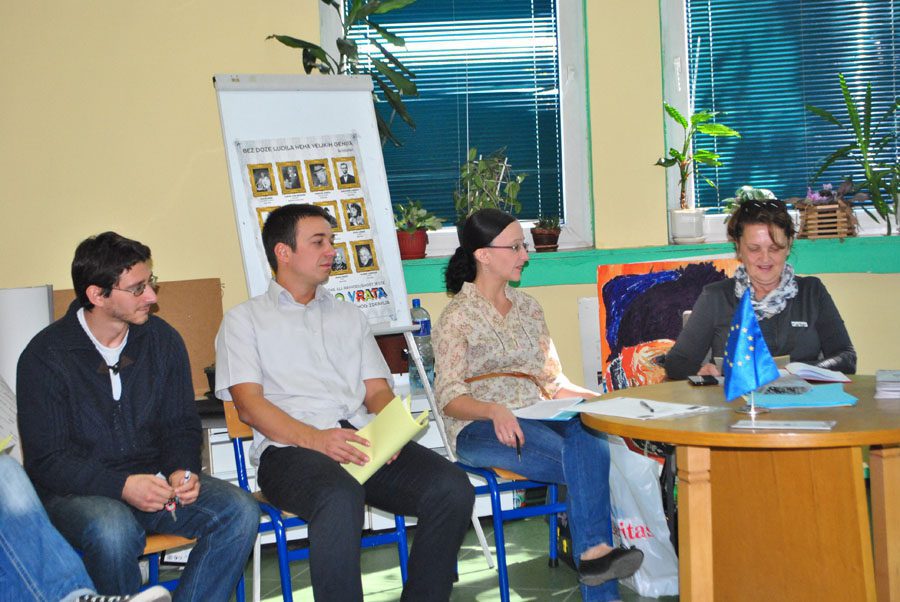 The third Working Group's meeting of the project "UPSTREAM 2" (UPdate of Socialization and TREAtment of Mental health – part 2), took place at the Department of Psychiatry of the General Hospital in Valjevo. Concrete steps for the creation of an user associations were discussed, as well as the organization of a campaign for the celebration of the World Mental Health Day.
The meeting was attended by persons interested to actively participate to the association of users which goal is to make the people with mental disabilities more visible and help them in solving the problems related to their situation. By the end of the year, an association of users, based of the model offered by the Association of Mutual Assistance to mental distress, "Phoenix", from Tuzla, is supposed to be created in Valjevo. This will precede the celebration of the 10th of October – World Mental Health Day. The campaign was designed by students from Valjevo and Tuzla, who participated to the "Summer Camp" held in Serbia. The slogan of the day will be "Wake up and get involved." Several activities will be organized in the yard of Department of Psychiatry, in order to demonstrate that going there it is not embarassing and that all together we should break down the prejudices toward that department the people who use its services.
The realisation of the project "Professionalization of  mental health sector in Valjevo for better community living of intellectually disabled" has recently started. The project is jointly implemented by Caritas Valjevo, Association for helping children with special needs "Our Dreams" and the City of Valjevo. Marko Maksimovic, project coordinator, presented to the Working Group members goals and activities that will be implemented in the future.
According to the number of attendees, also this meeting confirmed the growing interest of the wider community to improve living conditions of people with mental disabilities, to break down the prejudices and to raise the attention on the mental health care.
"UPSTREAM 2" is the sequel to the successful eponymous project, conducted from December 2010 to March 2012 and co-financed by the European Union through the IPA cross-border cooperation. The project is implemented by Caritas Valjevo and the Association of Mutual Assistance in mental distress "Phoenix" from Tuzla, with the support of partners.
https://srb-bih.org/wp-content/uploads/2014/10/DSC_1339.jpg
602
900
Jelena Stojanov
https://srb-bih.org/wp-content/uploads/2018/12/cb-hih-logo2.png
Jelena Stojanov
2014-09-30 08:12:05
2017-09-28 14:08:27
New tasks of the Working group