In Stara Pazova, on February 25, 2014 at 5 p.m., parents' education in Pre-school institution "Poletarac" has been held. The parents showed huge interest and they praised the activity IPA project team started performing. Due to school director, Mrs. Radmila Bogdanovic, and her colleagues, when it comes to comparison with previous Pre-school institutions, turnout of parents has reached the highest number.
Afterwards, project team visited "Simeon Aranicki" primary school, where the number of people present has also reached high number. After Snezana Tomasevic-Todorovic, PhD (Assistant Professor) I MSc Nikola Jevtic held lecture on the subject of "Improving testing abilities on postural status and spinal column status," a discussion on this topic has been started. Hereupon, some parents expressed their opinions and supported our activity by giving positive comments. Local media reported this event and, up to now, the highest interest has been noticed in Stara Pazova. In addition, we wish to express our sincere gratitude to "Simeon Aranicki" primary school director, Mrs. Sladjana Bursac.
Furthermore, there has been parents' education held on February 24, 2013, in both Pre-school institution "Bosko Buha" and "Dusan Jerkovic" primary school in Indjija. Presentation was held by Branka Protic-Gava, PhD (Associate Professor) and coworker MSc Darinka Korovljev. Parents' education in Indjija will be held again.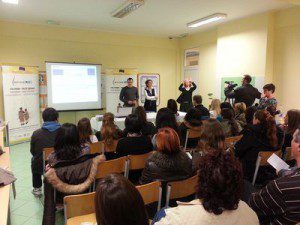 https://srb-bih.org/wp-content/uploads/2018/12/cb-hih-logo2.png
0
0
Jelena Stojanov
https://srb-bih.org/wp-content/uploads/2018/12/cb-hih-logo2.png
Jelena Stojanov
2014-02-25 10:25:37
2017-09-29 13:24:37
Parents' Education in Stara Pazova and Inđija