The second TV show on project activities is created to present results achieved within the 10 months of the SWL project, aimes at promoting the process of primary waste selection in schools.
TV show analyzes different asspects of project activities, starting from the eco-camp for primary school pupils which was successfully executed at Tara, through the daily process of waste collecting and waste transportation to sanitary landfill. Our interlocutors were students, teachers and employees in PUC Duboko, who expressed their own opinion and vies on this process.
Recorded material will be broadcasted continually on the Lav television, from December to the end of project activities in April 2014.
Videos are available to all media who are interested to broadcast it in order to spread examples of best waste management practices.
The second TV show can be seen here.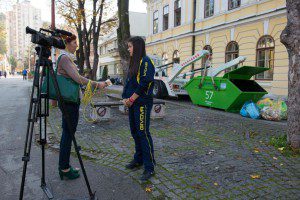 https://srb-bih.org/wp-content/uploads/2018/12/cb-hih-logo2.png
0
0
Jelena Stojanov
https://srb-bih.org/wp-content/uploads/2018/12/cb-hih-logo2.png
Jelena Stojanov
2013-12-03 17:12:34
2017-09-27 19:30:16
The second "Schools Waste Less" TV show