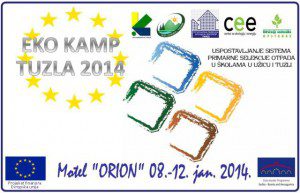 Day 5
Sunday, 12th January, 2014
On the fifth and last day of eco-camp, much to our regret, breakfast was followed by a presentation of the project manager, Mr. Miloš Radojević, about waste management in Belgium. We learned there were regions that do not have sanitary landfills and waste was recycled in different ways or incinerated to produce energy.
After completing the presentation, we wrote notes on "paper mirrors" keepsake of a great team that we spent five unforgettable days with.
Some other guests visited camp, Ms. Danijela Konjić, a member of the Joint Technical Secretariat, expressed her opinion that she saw strong connections between the participants and the camp is great example of cross-border cooperation. Mr. Duško Masleša, representative of the Directorate for European Integration B&H, expressed the hope that these projects will be implemented and he invited the audience to apply in the next call for proposal to the cross border cooperation. Guest presenters were also: Ms. Džemila Agić, an assistant for education; Mr. Edin Dizdarević, project coordinator ; Mr. Miloš Radojević, project manager; Ms. Nada Todorović, a representative of PUC "Duboko" from Užice, Ms. Pera Josipović, a biology professor from Tuzla. All of them emphasized the excellent relationships between the camp participants. Kemo and Nemanja conveyed a students impressions. That event marked the end of eco-camp "Tuzla 2014".
After lunch, we boarded our bags on the bus and had a long greetings. Most of the participants could not hide the tears, but we promised that we will organize a new party as soon as possible.
In front of the "Orion" motel we set off at 3 p.m. The same way to Tuzla and then from Tuzla to Užice.
We are going to meet again, it`s just a matter of days!
Aleksandar Ćitić
Milena Tomić
Day 4
Saturday, 11th January, 2014
On the fourth day of camp, right after breakfast, the presentation of 14 panels from the previous day was presented. Students and their teachers showed the introduction and implementation process of  the primary waste selection project in their schools.
After completing the presentation, we went to the eco-ethno village near the motel where we were accommodated. During the short walk to the village, we enjoyed the beautiful nature.
After lunch, block of workshops on recycling paper and service learning were arranged. Then a students` presentation on how to make this project sustainable, where we came to common conclusions and great ideas for ecological sections in the future.
Before dinner, tournament in "Bridge" game was organized. Aleksandar Ćitić took the win, Ognjen Joksimović was a runner-up, while third place went to Ivana Milosavljević from Užice. This game had a symbolic meaning, ie . connecting the two cities, Užice and Tuzla.
In the evening a concert of local group "Katarza" was organized in Tuzla, atmosphere and energy were great.
Aleksandar Ćitić
Milena Tomić
Day 3
Friday, 10th January, 2014
On the third day of eco-camp, after breakfast we went on a study tour to the municipality of Lukavac, Modračko Lake and "Kemis" factory. After arriving in Lukavac we visited the lake shore and in a conference hall of nearby hotel was a presentation on the disposal of hazardous waste and ecological problems of this lake. The irrigation of the Tuzla Canton from Modrač Lake was one of the mentioned problems. A decision to ban swimming, fishing, eating the lake fish, as well as the planting of crops in the range of 2.5 km was introduces. After that we went on a tour to the "Kemis" factory, where we saw a sanitary facilities for treatment of infectious medical waste, storage of electronic waste and storage of expired medications or those which do not have the correct chemical composition. It is also important to note there is a storage facility for liquid and solid waste within the factory. "Kemis" is the only accredited factory in Federation which has licenses and qualifications for the processing, transportation and storage of hazardous waste.
After an afternoon break, we summarized previous activities and announced the following ones. 14 panels on the topic "Introduction of separate waste collection process in my school" were the next in our schedule. All students with their teachers started producing panels that will best present the implementation of this project in their schools.
Educational and recreational evening on film art was arranged in the evening.
Tina Tokić
Aleksandar Ćitić
Day 2,
Thursday, 9th January, 2014
On the second day eco-camp we visited Tuzla and tourist and recreational complex of artificial lakes and waterfalls with salt water "Panonica". We were sorry because it wasn`t a swimming season, but we promise that will gather on summer break and spend holiday at the Tuzla`s "seaside without the sea". Within this complex, there is a museum setting and archaeological park of the villages from the early Neolithic period. After the seminar we had a city train tour through the centre of Tuzla, where we saw the monuments to great historical people and cultural attractions of this city.
PUC "Komunalac" organized a visit to the sanitary landfill "Desetine", where we watched a film about their work.
After lunch and an afternoon break, we participated in workshops on "Waste as raw material and the composting". All camp participants, both students and teachers, had a task to calculate how much waste they had created during their life and we came to figure of 301 t, which surprised all of us. We also counted that we selected 22 t of waste during the first semester and thus saved 14 trees, 20 t of oil and the electricity energy equivalent to 20 year consumption of four-membered family! We were extremely proud of the result!
Mills game competition and disco night were organized in the evening.
A special moment was 18th birthday of the camp participant, Milica Paunović. We are sure and pleased that she will remember this birthday for a long time and we will remember her surprise and emotion. Happy birthday, Milica!
Aleksandar Ćitić
Milena Tomić
Kemal Nedžibović
Day 1 ,
Wednesday, 8th January, 2014
Study tour of Užice`s high school students and their teachers began on 8th January, departure was at 8 a.m. from Užice. The path led over the Kadinjača through Rogačica, Ljubovija, Mali Zvornik, via Tuzla and Srebrenik, to the "Orion " motel in Ormanica, where we were accommodated.
Break for breakfast and refreshment was made in Mali Zvornik. On the right side of the road in the rocks is a medieval underground town of Karađorđević family (in the words of a tour-guide) shaped like cross with the altar. The interesting thing is that Zvornik lake is known for legend of the monster, named Toša.
Implementation of the second phase of the project, which consist of eco-camp for high school students from Užice and Tuzla, started in Ormanica and on this occasion will be organized study tour visits to Tuzla and Lukavac, with a tour to the "Kemis" factory and sanitary landfill "Desetine" in Tuzla.
After the eco-camp opening, students and teachers got to know each other through the interactive games and  shared their expectations about the coming days of the eco-camp.
7 secondary schools from Bosnia and Herzegovina and 7 secondary schools from Serbia took part in this project. Students had gone through the tests on primary waste selection within the ecological sections in their schools in order to take part in eco-camps. In the following days, participants of the eco-camp will participate in various fun and educational workshops.
The main aim of this cross-border project is to educate students and teachers for more effective implementation of the primary waste selection in their communities.
"We believe that this can be done in 28 primary and secondary schools in Užice and Tuzla, because we know that responsible young people work and study there and they deserve cleaner and healthier environment. One day, these people will lead their communities, creating a better and more responsible society for all residents. You are those people and we count on you!" Those were the words of the project team members.
Jovana Lazarević
Aleksandar Ćitić
Tina Tokić
Kemal Nedžibović
https://srb-bih.org/wp-content/uploads/2018/12/cb-hih-logo2.png
0
0
Jelena Stojanov
https://srb-bih.org/wp-content/uploads/2018/12/cb-hih-logo2.png
Jelena Stojanov
2014-01-15 11:18:51
2014-01-17 09:55:45
"Tuzla 2014" eco-camp diary