Meeting of the medical management of Čigota Special Hospital from Zlatibor and the Reumal Spa from Fojnica, was held in Fojnica on 23th and 24th April 2014. Meeting aimed at establishing a joint health product within the cross-border cooperation project in the field of health tourism CROSS SPA.
The project envisions the creation of new health program based on the experiences of SB Čigota and healthy weight loss program for children and adults, which will be offered to the Spas institution in BiH, in order to introduce new segment of the offer.
This workshop was the result of an extraordinary collaboration between Reumal Spa Fojnica and Special Hospital Čigota within the CROSS SPA project. A new common tourism product will be based on a new joint health program.
Starting point in the creation of a joint health program was the recognition of human and structural resources of Čigota and Reumal and opportunities for potential sinergy of these two institutions in order to implement a new, common health program. SH Čigota is well-known for treating children and adult's obesity and Fojnica Spa is one of the most famous centers in the former Yugoslavia for rehabilitation of patients with physiatric issues and posses high professional personnel in the field of physical medicine and rehabilitation.
By joint efforts, the introduction of a new joint program with a temporary name "Prevention and treatment of postural disorders" was agreed. The program refers to preschool and school age children (not younger than 6 years). 10-day residence in spa is provided twice a year, at intervals of at least six months, with the conducted training in kinesiotherapy and continuous ambulatory monitoring and consulting provided. Children with postural disorders who are also obese will be referred to SH Čigota to get Čigotica treatment. Children with postural disturbances from the Čigotica program, will be recomended to continue treatment in the Reumal Spa in Fojnica. Residence and control procedures, proper nutrition and exercises are mutually harmonized and standardized.
The next steps in finalizing a new joint health program are harmonization of: medical documentation, nutrition principles, physical procedures and children`s activities schedule during their stay, as uniform pattern.
Reason for the new concept and the idea for prevention and treatment of postural disorders lies in the fact that they these problems are very present among children, primarily as a result of improper posture that occurs due to the lack of physical activity in the open air, on the one side, and excessive and inappropriate seating on the other side. It is necessary to create a new environment which function would be more complete and suited to children's needs, which thus designed joint program will fulfilled. In the future, it is necessary to include the relevant ministries and educational institutions in this process.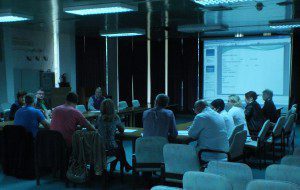 https://srb-bih.org/wp-content/uploads/2018/12/cb-hih-logo2.png
0
0
Jelena Stojanov
https://srb-bih.org/wp-content/uploads/2018/12/cb-hih-logo2.png
Jelena Stojanov
2014-04-24 08:18:15
2017-09-27 13:22:24
Identified opportunities for introducing the new health program in the cross-border area.